Definition, history and etymology of the bell
The term "bell" derives from Campania, the region where bells were first used for ritual purposes.
The shape of the bells
Bells are instruments made in the form of hollow vessels, generally of metal, but often also of wood, glass or terra cotta. They can be classified as idiophonic (instruments where the vibrating body is the same as the instrument) or, more simply, as percussion instruments.
Its vibrations are greatest at the edges and diminish towards the top of the cap.
Types of bells
There are two types of bells: those equipped with an internal striker (the common type in the West) and those that are struck from the outside with a "mallet" (the classic oriental bells). The shapes of bells vary depending on their cultural context, their use and the materials used to make them. 
In general, large bells with strikers are cast in bronze (a copper-tin alloy) and are anchored to an iron structure called the castle; this type of bell is usually installed in the "belfry" of bell towers or civic towers.
Bell as a mean of communication
In any civilizations anyway, this instrument is the preferential mean of communication between human and divine. Though bells have also the earthlier task of communicating major events to all the community.
In times when mass media and newspapers didn't exist, bells performed the role of a local radio: through musically coded languages, usually specific of each community, they could announce births (including the child gender), deaths, weddings, climate disasters and the coming of a major personality into town too.
Over time and through the development of casting techniques, they have tried to upgrade this voice, producing bells ever greater. 
What is the largest esisting bell?
Bells can have different diameters, from a few centimeters to several meter. 
The Tsar Kolokol" is the largest existing bell, and measuring almost seven meters in diameter  it is the largest bell of a concert of great bells, dating from 1817, installed in the Kremlin that now, being broken, is on display in Moscow's Red Square.
Anche la seconda e la terza campana del mondo si trovano a Mosca, mentre la più grande campana italiana , che pesa "solo" 22, 5 tonnellate, è, curiosamente, una campana "civile": si tratta della "Maria Dolens", fusa nel 1964.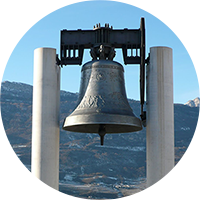 L'originale "Maria Dolens" fu in realtà fabbricata nel 1924 con il bronzo dei cannoni offerto dalle nazioni che avevano combattuto la Prima Guerra Mondiale, ma diversi problemi di suono e struttura constrinsero a rifare 3 volte tra il 1925 e il 1964 questa campana della pace.
Other types of bells
There are, however, also small table bells, often made of silver and artistically decorated, equipped with handles, generally used to command attention, at the table to call servers or, sometimes, during mass, to indicate the moment of the elevation of the host and when the faithful should kneel and rise according to the liturgy.